In January of 2008,  after 20 years in department store management, I was a Regional Human Resources Director with Macy's.  I am pretty sure that my Mom, (may she rest in peace), was pretty happy sharing this impressive sounding title whenever she was asked, "What is Le Ann doing these days?"  That was soon to change.
Long story short, I had my "ah hah" moment on January 22nd of 2008.  For a variety of reasons, too numerous to mention, I decided that I would rather pick up dog poop than deal with the crap I had to deal with in the corporate world.   Between mid January and the end of March, I worked at a frenetic pace.  I woke up early, worked 2 hours on developing All Dogs Poop (ADP), went to "work" and then came home and worked another 5 hours on ADP.  When I think back, I am amazed how much I got accomplished!  Our website was launched at the end of March, we ran our first ad on April 3rd, and got our first 2 clients that same day!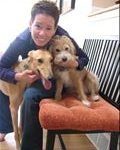 By May, we had continued to get new clients and I realized I was going to need to jump ship to devote all of my time and effort working on and in ADP.  This is where having the support and buy-in from your significant other is the make or break point.  It all could have gone very differently if Julie Woodward, now the co-owner, didn't give me the green light to quit my job and agree to be the sole financial supporter.  Two years later, Julie got to "retire" from corporate life to join ADP–she is another happy convert to the world of a dog poop pickup service owner.
Fast forward, 9 years.  All Dogs Poop has seen tremendous growth year after year.  It has been an amazing journey so far.  It is real gift to do something you like to do each and every day.  I highly recommend it!